Many countries in Asia-Pacific have been totally locked down or partially closed to contain the spread of the coronavirus. Also restriction of movement has been imposed to cities and provinces of many countries. With this unprecedented situation and challenge, our work and life style has been transformed to a large extent.
At the beginning, along with care for the safety and wellbeing of the colleagues, the Staff Union in the region also looked after other aspects, such as intern's and DC staff's contract period, welfare of staff with no direct contract with ILO, and medical services like hospital arrangements. Furthermore, coordination with other Staff Associations at national level has been effective to reach out to UNRCs and address staff's requirements.

Majority of the staff are relatively coping well with teleworking and rather satisfied with the work from home modality. Nevertheless, the substantial numbers of the staff face hardships with the new work arrangements because teleworking is being performed in a stressful situation under a global health crisis. Pressure has increased with lots of demand for skype meetings and training, emails and instructions from the office and supervisors. Some colleagues' workload has increased with irregular working hours. Unfortunately, some feel that they are closely monitored by the supervisors. Home workspace is not always ergonomically sound, but majority of the staff spend long hours in front of the laptop, responding to emails and delivering tasks. More than ever before, the staff's family responsibilities, especially for women, increase with childcare and homecare. Children are attending online classes, so parents have to provide support for their online schooling. Anxiety grows about their parents' health and children living apart from them. Poor internet connection in some countries testifies the staff's patience. This unhealthy work environment causes the physical and mental concerns of the staff and requires proper psychological guidance to the staff. The good thing is that more SUC-Management joint initiatives take place handling such issues and COSH is active in some duty stations.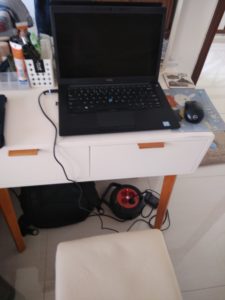 The Staff Union has continued to communicate with its members at regional and national levels to consolidate feedback on their health concerns and the impact of teleworking. Virtual conferences between SU reps and the members and SU reps and Regional Titular have been held. Rapid surveys on the impact of teleworking were conducted by a few SUCs. Staff Unions also adopt different means to interact with the staff and enhance their wellbeing, as well as to support others. A staff union opens a virtual café where anyone can join and relax with chat and fun; a union organises a yoga class for strengthening heath; a union mobilises donations to assist the livelihood of non-contractual staff; a union collects a fund to support rural migrant workers who suffer from the lockdown. In this challenging time, friendships and solidarity have been an incredible source of eveyone's good spirit and encouragement.
Some countries remain cautious as the virus still spreads, while some countries are improving the plights. We Staff Union in the AP region will keep vigilant to the situation and work on methods to ensure staff's safety now and in times of their return to the office. In the meantime, I wish all of you and your loved one be safe, healthy and happy. In Solidarity.
Pong-Sul Ahn
Regional Titular for Asia and the Pacific