Fund-raising for the victims of the earthquakes in the south and central regions of Mexico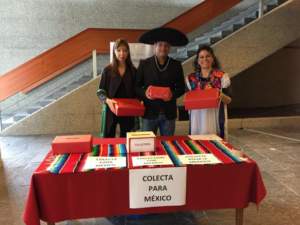 Mexican sombreros and "zarapes" animated the fund-raising event organised by the ILO Staff Union Committee on Friday 27th October lunchtime. The fund-raising event was organised with the purpose of contributing to help the victims of the terrible earthquakes which struck central and southern Mexico in September, 2017. More than 2 million persons were left without a house and means of subsistence.
The Staff Union Committee was pleased to announce that staff generously contributed 3,881 Swiss Francs in total.   The funds collected have been donated to the International Red Cross.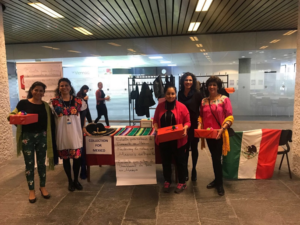 Thanks a million to all of you for your generosity!
***
Recaudación para las víctimas de los terremotos que afectaron el centro y sur de México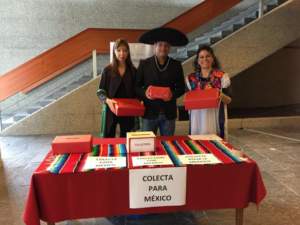 Sombreros y zarapes Mexicanos animaron el evento de recaudación de fondos organizado por el Comité del Sindicato de la OIT el día viernes 27 de octubre a la hora del almuerzo. El evento de recaudación de fondos se organizó con el propósito de contribuir a apoyar a las víctimas de los terribles terremotos que sacudieron el centro y sur de México en septiembre de 2017, que dejó a más de dos millones de personas sin casas y medios de subsistencia.
El Comité del Sindicato del Personal se complació en anunciar que el personal contribuyó generosamente con 3.881 francos suizos en total. Los fondos han sido donados a la Cruz Roja Internacional.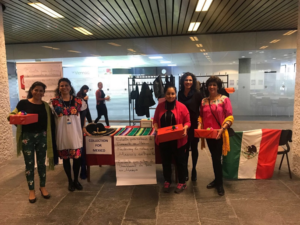 ¡Un millón de gracias a todos ustedes por su generosidad!
***
Collecte de fonds pour les victimes des tremblements de terre dans les régions du centre et sud du Mexique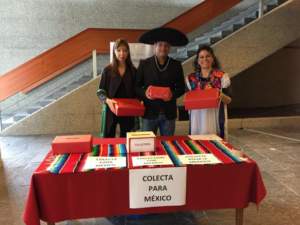 Des sombreros et des « zarapes » mexicains ont animé la collecte de fonds organisée par le Comité du Syndicat le vendredi 27 octobre à l'heure du déjeuner. L'événement de collecte de fonds a été organisé afin de contribuer à aider les victimes des terribles tremblements de terre qui ont frappé le centre et le sud du Mexique en septembre 2017, laissant plus de 2 millions de personnes sans logement et moyens de subsistance.
Le Comité du Syndicat a eu le plaisir d'annoncer que le personnel a généreusement contribué pour un total de 3 881 francs suisses. Les fonds recueillis ont été donnés à la Croix-Rouge internationale.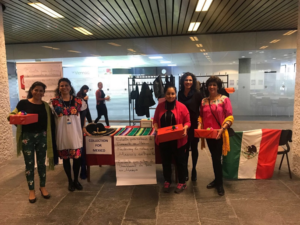 Merci mille fois à vous tous pour votre générosité!